Welcome to the website of Red House Estate, Moor Monkton, England. A place where you can enjoy the countryside of the Vale of York, close to the city of York but seemingly miles from anywhere. We have residential and commercial property to let, equestrian facilities, DIY livery, holiday lets, a caravan site and much more.
The Red House Picture of the Week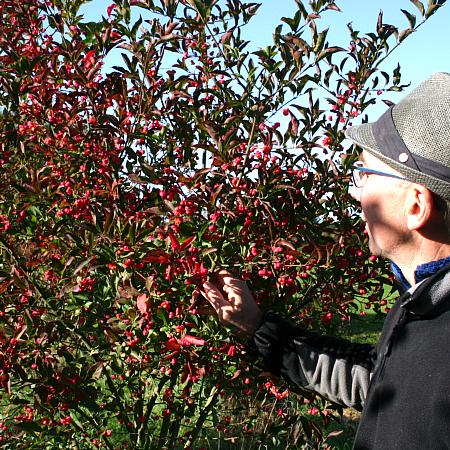 Inspecting the Spindle
This photo was not taken on an amble around the gardens but, in fact, on a hike down to the Ings woodland plantation. Interspersed around the edges, with the usual hawthorns and blackthorns, we have planted about 30 spindle plants which are at their spectacular best at this time of year. Strangely, the flowers in spring are quite inconspicuous but, in autumn, the fruit provide this fanfare of colour when the pink lobes open up to reveal the orange seeds. Perhaps we should plant a couple in the garden!
Click here to see the full Red House picture archive.
Website last updated 11th of November 2021.

visits since 21st January 2008.