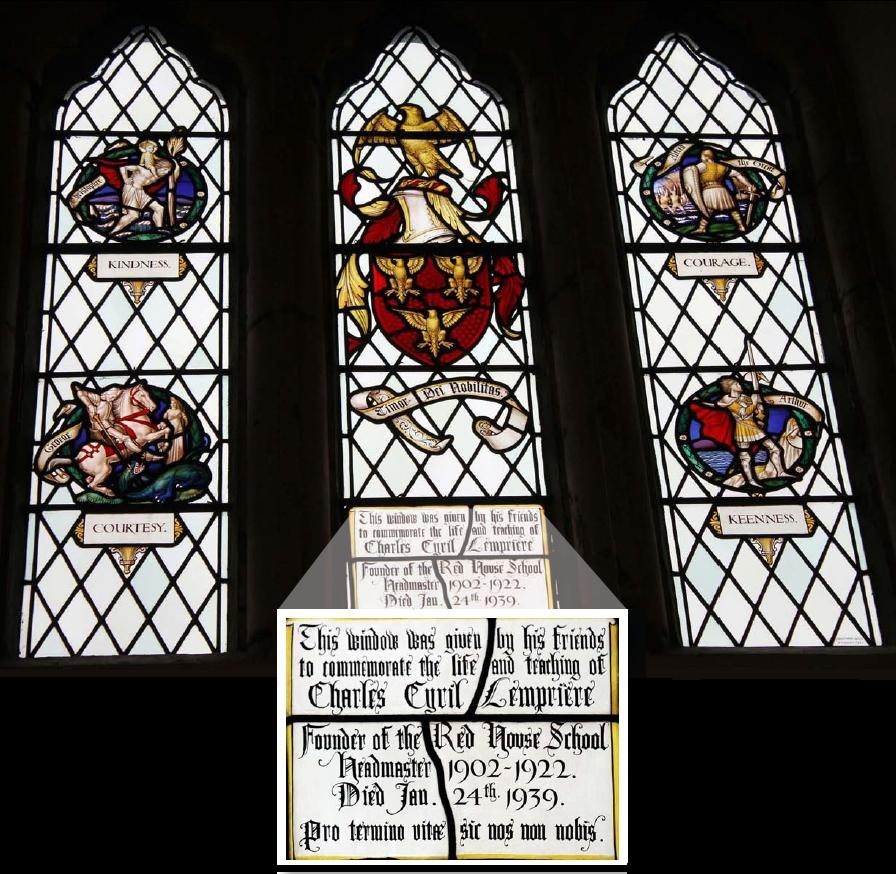 Lemprière's memorial window in the south wall of Red House Chapel
Close to the banks of the River Ouse, near Moor Monkton in North Yorkshire, stands a small chapel dating from 1600. High up in the wall to the right of the altar is a beautiful stained glass window dedicated to the life and teaching of Charles Cyril Lemprière.
In the earliest days of Rugby League the first captain of Hull, following the breakaway in 1895, was one CC Lemprière, a speedy wing threequarter who, for a while, held both tries-in-a-match and tries-in-a-season club records.
Could the Boulevard hero be the same person honoured in the stained glass window?
Red House and its chapel are reached by a long, almost deserted lane two miles off the main York-Harrogate road. The original house can be traced back to the 14th century. Charles I had once stayed in Red House but after the Battle of Marston Moor, Royalist sympathisers were pursued and its owner, Sir Henry Slingsby, was arrested and executed in the Tower of London. Over two centuries later, Charles Cyril Lemprière moved his small, private school from Harrogate to Red House and later bought the premises.
There are many old photographs and bound copies of the school magazine in the house archives and in a 1939 tribute the link was finally established. "Lemprière played rugger for Hull" it read. So the headmaster remembered in the chapel had indeed been a Boulevarder.
Breakaway
Lemprière was born in Hull but was a direct descendant of a very prominent Jersey family with roots going back centuries. In his earliest childhood he lived at 51 Whitefriargate, Hull, where his father was a banker at the 'Branch Bank of England'. The site once housed the city's workhouse but now even the bank has gone and 51 is the home of New Look and HMV.
During the 1880s the family moved away and Charles received a private education at several schools around the country including Arnold House in Chester. Later he attended the famous public school Radley College, where he showed a great aptitude for rugby and captained the school cricket team. He gained a scholarship to Worcester College Oxford and graduated in 1891.
Returning to the city of his birth as a master at Hymers College he joined Hull Football Club, playing his first match in October 1893. He must have impressed with his rugby ability and leadership qualities for in his second year he became captain.
At the end of that season the Hull club moved from East Hull to the Athletic Ground off the Boulevard in West Hull. This coincided with the split of 29th August 1895 and the birth of the Northern Union. Not all northern clubs elected to join the breakaway immediately. In Hull, the "All Blacks" (Hull) joined, but the newly promoted "Redbreasts" (Hull KR) remained in the Yorkshire (Rugby) Union Second Competition.
Despite his public school background Cyril Lemprière, as he was known in rugby circles, stayed loyal to Hull and became an enthusiastic supporter of the new code. The school magazine in 1939 took more of an establishment angle on events saying that "although Hull was a professional side he himself played as an amateur. It was the only rugger he could get as this was just after the big split over broken- time payment when the Northern Rugby Union was formed". However, he must have embodied the spirit of the new code, playing for six seasons in the NU, scoring 56 tries and one goal in 137 appearances. As a schoolmaster he is unlikely to have incurred broken time and, in any case, he did have an alternative in 1895 - he could have joined Kingston Rovers.
At Hull's first ever match at the Boulevard on the 21st September against Liversedge many of the city's leading citizens were invited. As captain, Lemprière attended the post-match dinner at the Imperial Hotel. He spoke of how the win (3-0) meant a great deal for Hull in the inauguration of the new ground. Councillor Robson said they had done the right thing in severing their connection with the Rugby Union. He had thought for a long time that the Rugby Union was an impediment to the progress of true sport (cries of hear, hear!) ... and it was far better to pay men openly than to do it sub rosa. The team photo taken on the day has survived (below)and shows a youthful looking team mostly sporting short but smart haircuts that would not look out of place today - unlike the more austere look of later years.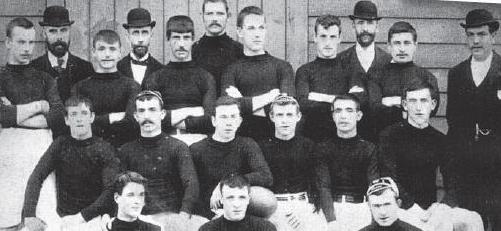 The Hull team at their inaugural match against Liversedge in 1895
Back Row: H Hildreth (Hon. Joint Sec.) C.A. Brewer (President) G. Jacketts, G.W. Stephenson (Hon. Joint Sec.)
Third Row: H. Wiles, W. Mansell. W. Harmer, J.S. Barker. J. Townend, G. Booth, J. Gray (Attendant)
Second Row: E. Mahoney. H. Thompson, C.C. Lemprière (Capt.) C. Townend, W. Johnson, A. Plugge
Front Row: G.E. Barker, W. Feetham, J. Holmes
Lemprière scored his first hat-trick of tries in November 1896 against Halifax and went far better in January 1899 with five against Holbeck. Also, in season 1898-99 he made his sole Northern Union Yorkshire appearance against Cheshire after two outstanding performances in the county trials. Appearing alongside him in the victorious Yorkshire side was the legendary Hunslet centre Albert Goldthorpe.
"Lemp" was a great favourite at the Boulevard. Reports commented on his man after man running down the touchline.
Influence
His final game was at Huddersfield on the 2nd March 1901 in the Northern Union Cup First Round. Hull had been in strict training that week and left Paragon Station on an early train, halting en route at Leeds. On that day the Fartown ground expected the most wretched condition imaginable with violent gusts of wind and sheets of rain. The game kicked off with the greater part of the pitch under water. Lempriere did not score and Hull lost by 6 points to 3.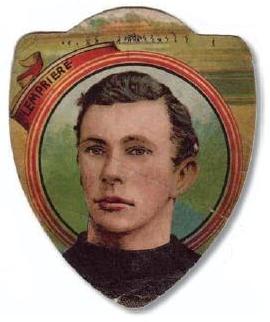 Lemprière's face appeared on a contemporary cigarette card
By this time his teaching career had taken a new turn. Following some tutoring experience he opened his private school just before the turn of the century. The country environment of Red House allowed him to promote outdoor activities and character building as well as traditional learning. He retired in 1922 and moved to Mildenhall in Suffolk. There he became involved in many local activities and, even at 65, played a good game of cricket. His ethic of "Kindness, Courtesy, Courage and Keenness" was used as a motto in the early school magazines and feature as the four corners of the stained glass window built in his memory.
Lemprière will have had a great influence on his students through his enthusiasm, knowledge and imaginative style of teaching. He must have been happy to talk about rugby since one of his former pupils wrote, in the rather polite style of the day; "He used to delight us with descriptions of games he played and one phrase 'Lemprière scored a cracker' always caused us amusement".
The stained glass window is a most unusual and probably unique way for a former Rugby League star to be remembered. And the connection with the game lives on. Red House is now an equestrian centre and Rupert, son of current owner Major Tony Gordon, and once a Red House pupil himself, played for Cambridge in the Varsity matches at Maidstone in 1983 and Headingley in 1986.
Thanks to Robin Gordon and Bill Dalton for their assistance in the preparation of this article.
Andrew Cudbertson
Taken from "Rugby League World" April 2012 issue