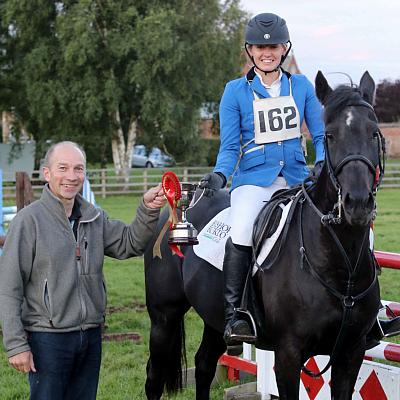 Grace Addyman and Maggie receive the Peter Hall Cup from Robin Gordon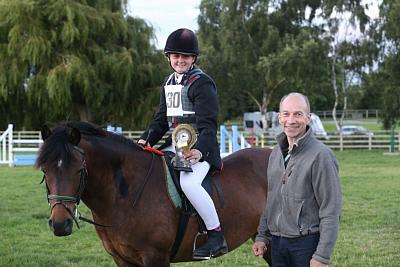 Paige Evans and Frank receive the Beginners Trophy from Robin Gordon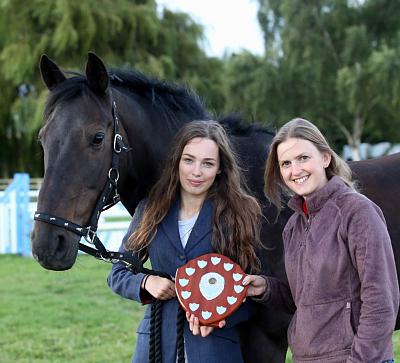 Rose Skehan and Irish Moon receive the Satin Shield from Zoe Billings
All photos by Chameleon Photography
The Peter Hall Cup was comfortably won by Grace Addyman on Maggie after they had put in some consistently high class performances over the 16 weeks of competition. Julie Richardson on William were their closest rivals and, perhaps, the competition could have been a lot closer if these two had been together for the whole season.
The Beginners Trophy was won by Paige Evans on Frank. They scored their total of 12 points after only the first 6 weeks before winning the Pre-Novice Class, thereby disqualifying them from competing in further Beginners events. Matilda Tasker on Honey came closest to catching them, only needing to come second in the final event of the season, but a pole down in the first round put paid to their challenge.
The Satin Shield for the most improved rider over the season was given to Rose Skehan who came on fantastically. She began the year riding borrowed ponies around the Clear Round and Beginners arena before taking on Irish Moon and was soon scoring points in the Pre-Novice and Novice Classes.
It was another vintage year of competition with over 100 rider/horse combinations taking part over the 16 weeks. The numbers of spectators seems to be growing steadily which all adds to the excellent atmosphere. A big "Thank you" to the helpers from the Red House Yard (without whom it wouldn't be possible to hold these events) who turn up every week to man the gate, take entries and rebuild jumps.