Web Site Cover Picture 346
14th February 2011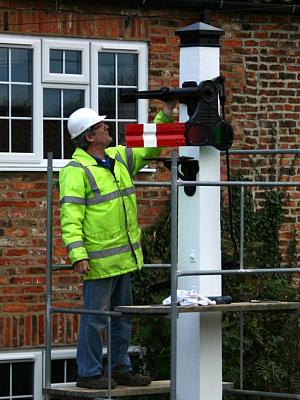 The Railway Signal - Part 2
The restoration of the railway signal at Red House is just about complete after extensive work by Richard Hill (pictured) of RHR Engineering. The mast has been modified with a galvanised steel foot to keep the woodwork away from the ground, the ironwork has been reconstructed and mounted on to the mast and the light is ready to be wired in to Signal Cottage outside which the signal stands.
The signal is a "stop signal" (as it has one white band on the semaphore) at which a train would come to a halt. This is different to a "distant signal" (with three bands) which would warn the driver of the state of the next signal on the line. Hence we can presume that it was located at Marston Moor station itself whence it came after the station's closure in the late 1960's.