Web Site Cover Picture 345
7th February 2011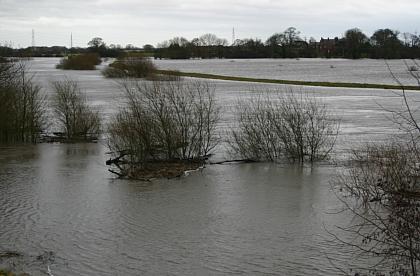 Redhouse Ings in Flood
Looking south from the village of Beningbrough across the River Ouse, the buildings of Red House can just be made out on the horizon as the flood waters swirl eastwards towards York. This has been the first "proper" flood of this autumn/winter season and is all the more surprising as the recent rainfall at Red House has been remarkably low (the 19.3mm that fell in the last week was absorbed quickly by the dry soil). It is heavy rains in the Pennines that have filled the rivers Swale, Ure and Nidd before swelling our own River Ouse.
Both settlements of Beningbrough and Red House have ancient histories, even Beningbrough was the site of a castle of the Northumbrian kings, and consequently have little to fear from flooding. They are built on glacial ridges rising a few meters above the flood plain.