Web Site Cover Picture 340
7th January 2011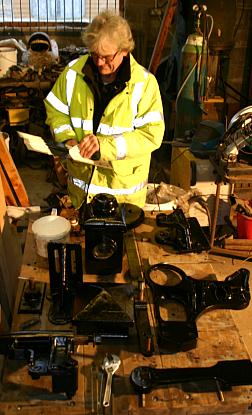 Restoring the Signal - Part 1
In front of Signal Cottage on the Estate a railway signal has stood for the last 40 years or so. It came from Marston Moor station (about 3 miles south of Red House) when the station was closed in the late 1960's and the story goes that one of the teachers at the preparatory school here was a railway enthusiast and he organised the moving of the signal from the station to Red House. Over the years the wind and rain had seized the mechanism and the mast was in need of repair too. So, last November, it was taken down and we have been busy restoring it ever since. So far the mast has been repaired, retreated and given new paint and all the castings have been dismantled, loosened up, cleaned, repainted and greased. We are now waiting for some stained glass to replace the indicator panes which were broken or had perspex fitted as a quick repair. The castings were made between 1937 and 1940 at the Chippenham works of the L&NER which ran the line between York and Leeds.
When all is finished the signal will be re-erected in front of the cottage and we hope to have a light installed with all the mechanism working.