Web Site Cover Picture 330
18th October 2010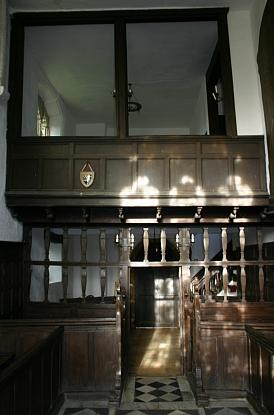 The Chapel Screen and Gallery
The Chapel at Red House was built in the first years of the seventeenth century by Sir Henry Slingsby The Elder. At that time it was fashionable for the gentry to have their own private chapel apart from the local parish church. In the case of Red House it was also an issue of practicality as All Saints church in the next village of Moor Monkton is nearly two miles away. The chapel has survived almost as it was when built and is one of the few remaining college style chapels left of its time. The term "college" refers to the placing of the pews facing inwards as they are in the eastern half at Red House. This was possibly to facilitate a style of singing, create more space in the central floor area or as a way of separating the sexes. It is not clear why Red House Chapel was laid out this way.
The screen divides the ground floor into two, separating the eastern part, which would probably have seated the clergy and household, from the estate workers seated in the western half. The gallery was almost certainly where the Slingsbys would have watched down from, although only those in the front row could have seen what was happening below.