Red House in 1957 - Picture 007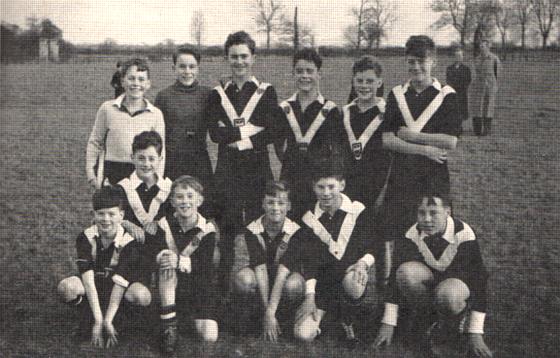 The Red House 1st XI Football Team
The Football team of 1957 was a very succesful one with 8 wins and 2 losses, 35 goals for and 14 against. Both lost games were played against Terrington Hall, long term rivals of Red House. In the background are Mr T.E. Hardwick (headmaster of Red House from 1932 to 1952) and Mrs Hardwick.
The team were:
Front Row (l to r): T. Robinson (nimble inside-left), R. Green (centre forward with 7 goals), W. Oliver (plucky right-half), R. Mariott (improving left-half), J. Ellis (dependable right-back), M Harne (part time centre-forward)
Standing (l to r): John Drinkall (linesman and occasional left-half), C. Roberts (keen captain and goalkeeper), P. Shepherd (thoughful centre-half), Gordon Longbottom (right-wing and prolific goal-scorer (17)), Guy Faber (industrious inside-right) and A. Elsom (sound left-back).
Photo donated by John Drinkall (Old Cavalier 1954-8)
Thanks to John for supplying names to faces and other miscellaneous information.