Welcome to the website of Red House Estate, Moor Monkton, England. A place where you can enjoy the countryside of the Vale of York, close to the city of York but seemingly miles from anywhere. We have residential and commercial property to let, equestrian facilities, DIY livery, riding holidays, a caravan site and much more.
The Red House Picture of the Week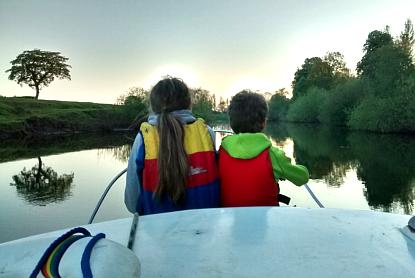 Heading Upstream
The unexpectedly hot bank holiday weather made a trip on the River Ouse an essential evening entertainment this weekend. Five of us climbed aboard "Blue Moon" and motored upstream to Linton Lock. We were treated to a peaceful trip on mirror-like water, waving to other boaters and guests from a wedding party at the Nidd confluence. The entertainment continued upstream with frequent sightings of geese, ducks, owls and sand martins. The return trip in the dark was equally rewarding when the stars came out and the planet Venus rose up over the horizon. At journey's end, we were greeted by the welcoming lights of Redhouse Landing.
Click here to see the full Red House picture archive.
Website last updated 17th of May 2018.

visits since 21st January 2008.