Welcome to the website of Red House Estate, Moor Monkton, England. A place where you can enjoy the countryside of the Vale of York, close to the city of York but seemingly miles from anywhere. We have residential and commercial property to let, equestrian facilities, DIY livery, riding holidays, a caravan site and much more.
Red House Unaffiliated Show Jumping 2017
Results for the competition on the 21st of June are available on the 2017 Results Page. The next Show Jumping is on Wednesday 28th of June.

The Merry Monk and The Moor Monkeys at Red House
Moor Monkton's "Pop-Up Pub", The Merry Monk, is coming to Red House on Friday 30th of June. It will be open from 7pm to 11pm offering a selection of drinks including locally brewed draught ale, wines, soft drinks, quality coffee and snacks. It will be based in the Garden House and, weather permitting, will spill out onto the croquet lawn, tennis court and beyond. The pool will be open so swimming things are advised! ***STOP PRESS*** The new look Moor Monkeys will be playing their covers of songs old and new.

Red House Cross Country Open Days 2017
The next Cross Country Open Day is on Saturday 1st of July beginning at 10am.

Red House Riding Holidays 2017
Online and printable versions of the Red House Riding Holidays Brochure, as well as prices and dates, are now available for the 2017 Riding Holidays.

Bed and Breakfast at Red House
Based in Prince Rupert House, the Bed and Breakfast facility at Red House is run by Julia James. Full details can be found at the Prince Rupert House website.
The Red House Picture of the Week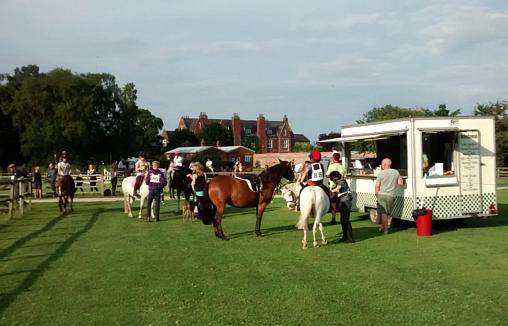 A Beautiful Evening for Show Jumping
Wednesday evenings in the summer at Red House mean Show Jumping and the 14th of June was a particularly good event. The sun shone, it was warm and there were lots of competitors keen to take part. The junior arena has been particularly busy this year and, to make it more exciting for the trophy points, we have had a different winner each week so far. Currently Amelia Mattocks on Blossom leads with 10 points but they are being chased by Harriet Hope on Snowy and Lisa Cammidge on Merlin.
Click here to see the full Red House picture archive.
Website last updated 22nd of June 2017.

visits since 21st January 2008.