Welcome to the website of Red House Estate, Moor Monkton, England. A place where you can enjoy the countryside of the Vale of York, close to the city of York but seemingly miles from anywhere. We have residential and commercial property to let, equestrian facilities, DIY livery, riding holidays, a caravan site and much more.
The Red House Picture of the Week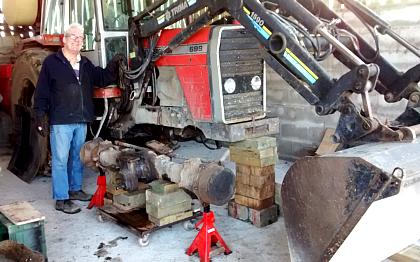 Axle Off!
The Estate's faithful old tractor had some major surgery on her front axle last week. Some leaking oil seals and the suspicion of worn bearings were becoming difficult to ignore. Rather than have her shipped off for the work, Richard Hill, our local engineer, was on hand to remove her front axle and investigate. Fortunately no unexpected problems were found and now she is all back together tidying up the muck heaps again.
We have owned her for 11 of her 34 years and, despite her being recently retired from baling and muck spreading, she is still a vital piece of kit for the Estate.
Click here to see the full Red House picture archive.
Website last updated 13th of February 2017.

visits since 21st January 2008.