Welcome to the website of Red House Estate, Moor Monkton, England. A place where you can enjoy the countryside of the Vale of York, close to the city of York but seemingly miles from anywhere. We have residential and commercial property to let, equestrian facilities, DIY livery, riding holidays, a caravan site and much more.
The Red House Picture of the Week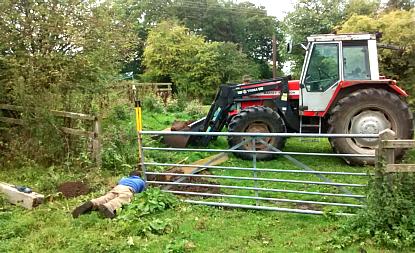 Replacing Gate Posts
At Red House we have, at the last count, 81 gate posts dotted around the fields. As they have an expected life of about 20 years this means that there are about 4 to replace each year. The job is not an easy or quick one and, last Friday, we worked on two before lunch. The first in the Games Fields (only about 6 years old) was in sandy soil and quickly done. The second (pictured), in the Moat Field, was about 40 years old and, unfortunately, set in concrete and rubble!
Click here to see the full Red House picture archive.
Website last updated 18th of September 2017.

visits since 21st January 2008.